2023 Prices and Package Coming Soon!
The International Society of Liquid Biopsy (ISLB) is the first international professional organization committed to the improvement and implementation of liquid biopsies in clinical routine practice and the promotion of a multidisciplinary approach for the diagnosis and treatment of cancer patients based on the use of liquid biopsies.
ISLB was founded in 2017 in Granada, Spain with the aim to join healthcare professionals, mainly oncologists, and those who adopted liquid biopsies as a new clinical tool.
We are pleased to welcome liquid biopsies professionals all over the world. We would like to be the link among stakeholders in the liquid biopsies theme. Our education and information program is based on an integrated multidisciplinary approach to reach an advanced cancer research. We seek to remove obstacles that limit liquid biopsies implementation in the routine clinical practice, with the aim to expand liquid biopsies adoption all over the world.
Past Event Statistics
Year
Location
Attendance
ISLB 2022
Miami, Florida, USA
Exp 300-350 in person,
500-1000 virtual
ISLB 2021
Virtual, online
1670
ISLB 2020
Virtual, online
ISLB 2016
Grenada, Spain
Demographics
Past Event Statistics
Year
Location
Attendance
ISLB 2022
Miami, Florida, USA
Exp 300-350 in person,
500-1000 virtual
ISLB 2021
Virtual, online
1670
ISLB 2020
Virtual, online
ISLB 2016
Granada, Spain
Demographics
Past Sponsors and Exhibitors
Amgen
AstraZeneca
Biocartis
Biocept
Biomark Diagnostics
Boehringer Ingelheim
Bristol-Myers Squibb
Caris
Exact Sciences
Fluidigm
GSK
Guardant
Inivata
Invitae
Izasa

Janssen
Lilly
Menarini
Merck
Natera
Novosanis
Predicine
Promega
Roche
Saga Diagnostics
Sens ID
Sermonix
Symex
Tethis
Thermo Fisher Scientific
Chelsea Prangnell
Senior Manager, Sponsorship & Exhibits Sales
ISLB-Sponsorship(at)icsevents.com
Direct: +1 778 716 6723
Congress Secretariat
International Conference Services Ltd. (ICS)
Suite 710, 1201 West Pender Street
Vancouver, BC, V6E 2V2
Canada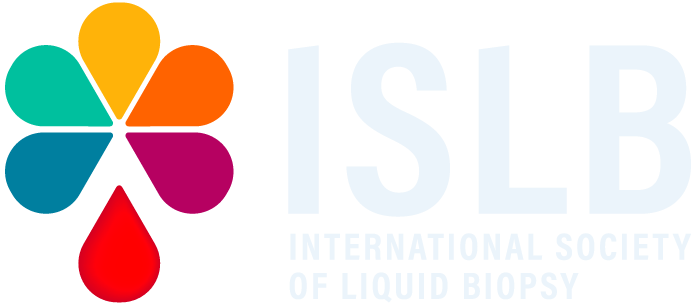 Dr. Oloriz, 16 Street
CP 18012 Granada - Spain
+1 604 681 2153
(when asked for extension please enter: 164)