It is our distinct pleasure to invite you to attend our 4ᵗʰ Annual ISLB Congress. This meeting will be held October 20-22, 2022 in Miami, Florida.
The meeting will bring together world experts in the field of Liquid Biopsy who will share their latest advances in the clinical field. During the event, all the most relevant aspects of clinical application and translational research on liquid biopsy will be presented. The congress is also giving possibility of discussions in each session, an extraordinary opportunity to share expertise and create networking.
Following the extraordinary participation and incredible impact of the last two virtual congresses with over 20K visits to the website, we are also planning on adding virtual or on demand elements for delegates at home. Increasing in this way, the possibility to have access to a high level education.
ISLB has decided to structure the event under the same characteristics around a cutting-edge scientific agenda based on: Advancements in Liquid biopsy: Discovery, Diagnostics and Clinical Applications.
The annual ISLB 2022 Congress aims to address the principal advances in the world of the LB. The conference will approach this from both the point of view of fundamental studies, as well as the more prevalent clinical and translational trials.
In this context, the scope of the program will focus on various sessions including:
💧 Basic research in Liquid Biopsy
💧 Liquid Biopsy advances in the last decade
💧 Translational research in Liquid Biopsy
💧 Current clinical application of Liquid Biopsy
💧 Expanding clinical application of Liquid Biopsy
💧 Future of Liquid Biopsy
💧 Liquid Biopsy clinical application challenges and opportunities worldwide
💧 ISLB Award lectures
In the coming months we will be providing you with more information about the congress. Don't forget to subscribe to our mailing list or follow us on social media to stay connected.
We are looking forward to seeing you at the ISLB 2022 Congress in Miami!
Christian Rolfo
President of ISLB on behalf of the Executive Board
The International Society of Liquid Biopsy (ISLB) is the first international professional organization committed to the improvement and implementation of liquid biopsies in clinical routine practice and the promotion of a multidisciplinary approach for the diagnosis and treatment of cancer patients based on the use of liquid biopsies.
ISLB was founded in 2017 in Granada, Spain with the aim to join healthcare professionals, mainly oncologists, and those who adopted liquid biopsies as a new clinical tool.
We are pleased to welcome liquid biopsies professionals all over the world. We would like to be the link among stakeholders in the liquid biopsies theme. Our education and information program is based on an integrated multidisciplinary approach to reach an advanced cancer research. We seek to remove obstacles that limit liquid biopsies implementation in the routine clinical practice, with the aim to expand liquid biopsies adoption all over the world.
Engage with a Global Audience​
The Annual ISLB Congress 2022 will bring together international experts in the field of Liquid Biopsy to share latest advances in the clinical field. Clinical best practices related to liquid biopsy will be presented, new consensus will be reached, and the latest advancements on cellular and molecular diagnostic technologies will be discussed. This meeting is an excellent opportunity to interact with world experts in the field of Liquid Biopsy. Attending will be an international community of healthcare professional involved in cancer patient management, scientists, research and development staff, account and business development managers, laboratory leaders, and product specialists in liquid biopsy.
Increase your visibility and organization's exposure to national and international markets by becoming a sponsor, exhibitor or by holding an industry-supported seminar.
ISLB 2022 is an excellent opportunity to interact with a diverse group of professionals:
Research Institutes
Regulatory Bodies
Industry
Healthcare
Associations/Societies
Government Agencies
ISLB members
Access the sponsorship and exhibit opportunities here:
A variety of options are offered, including but not limited to:
Table top exhibits
Industry-supported seminars, in person and on-demand virtual
Advertising opportunities
Marketing & networking items
And more!
Past Event Statistics
Year
Location
Attendance
ISLB 2022
Miami, Florida, USA
Exp 300-350 in person,
500-1000 virtual
ISLB 2021
Virtual, online
1670
ISLB 2020
Virtual, online
ISLB 2016
Grenada, Spain
Demographics
Past Event Statistics
Year
Location
Attendance
ISLB 2022
Miami, Florida, USA
Exp 300-350 in person,
500-1000 virtual
ISLB 2021
Virtual, online
1670
ISLB 2020
Virtual, online
ISLB 2016
Granada, Spain
Demographics
Past Sponsors and Exhibitors
Amgen
AstraZeneca
Biocartis
Biocept
Biomark Diagnostics
Boehringer Ingelheim
Bristol-Myers Squibb
Caris
Exact Sciences
Fluidigm
GSK
Guardant
Inivata
Invitae
Izasa

Janssen
Lilly
Menarini
Merck
Natera
Novosanis
Predicine
Promega
Roche
Saga Diagnostics
Sens ID
Sermonix
Symex
Tethis
Thermo Fisher Scientific
Chelsea Prangnell
Senior Manager, Sponsorship & Exhibits Sales
ISLB-Sponsorship(at)icsevents.com
Direct: +1 778 716 6723
Congress Secretariat
International Conference Services Ltd. (ICS)
Suite 710, 1201 West Pender Street
Vancouver, BC, V6E 2V2
Canada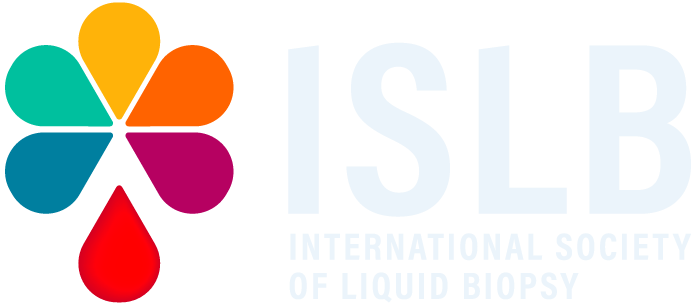 Dr. Oloriz, 16 Street
CP 18012 Granada - Spain
+43 1 3950 6191
(when asked for extension please enter: 303)